We believe those things to be valued most highly are eternal. Therefore, our three defining values are: God, God's Word, and God's people. We value temporal things and activities only as they support our defining values.
Defining Value 1 – God

We value supremely the Triune God – Father, Son, and Holy Spirit – in all His manifestations and functions, including Creator, Sustainer, Redeemer, Healer, Provider, Comforter, and Guide.
We relate to God through a variety of defining spiritual practices, including prayer, worship, fasting, study of scripture, solitude, meditation, guidance, and the sacraments.
Defining Value 2 – God's Word

We value God's gracious revelation of Himself through His Word, the Bible, which we hold to be divinely inspired and fully reliable. While the Bible provides necessary guidance for proper belief and correct behavior, we believe it is primarily relational in nature, and that it was given to allow us to enter into a living relationship with its Author.
We relate to God's Word through the defining practices of studying it for information, reading it for formation, praying it for transformation, teaching and preaching it for conformation, sharing it for evangelization, and using it as a guide for discipleship.
Defining Value 3 – God's People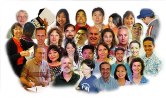 We value all human life as sacred regardless of gender, age, ethnicity, education, economic status, marital status, religious affiliation, or belief. It is our earnest desire for all people to come to a saving knowledge of Jesus Christ, and to become fully discipled Christ followers.
We relate to people through the defining practices of intercessory prayer, acceptance, affirmation, support, mutual submission, corporate gatherings, small groups, fellowship, and the practices of corporate and personal spiritual formation in an environment of grace.
We value lifelong, monogamous marriage between one man and one woman. We value families in all forms, including nuclear, extended, single-parent, blended, and foster families, as well as the unmarried. We value people of all age groups, including the unborn, children, youth, adults, and senior adults.